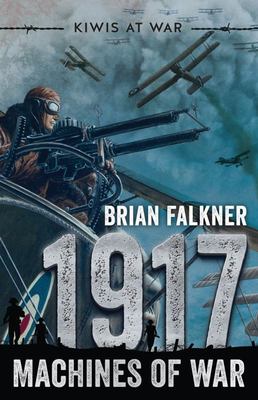 $19.00
NZD
Category: NZ fiction | Series: Kiwis at War
Seventeen year old Bob Sunday has stolen his brothers identity to enlist in WW1. Keith was killed at Gallipoli, so doesnt need it any more, anyway. But Bob is keen to join the Royal Flying Corps, and soon finds himself flying patrols over the front line in France, up against the likes of the Red Baron M anfred von Richthofen. A boys dreams of adventure are soon shattered amid the horrors of war; culminating in his witnessing the destruction at Passchendaele. The fourth episode in a gripping series that tracks each year in World War One, from 1914 to 1918, each focussing on different aspects of war. Each book in the series is written by a top New Zealand author and features threads that link the stories together. ...Show more
$18.00
NZD
Category: NZ fiction | Series: Hairy Maclary and Friends | Reading Level: Children's - Kindergarten, Age 5-6
The classic story in a new, larger format. Hairy Maclary goes off for a walk with a few of his friends - and comes up against a nasty surprise in the shape of Scarface Claw! Read all the Hairy Maclary and Friends books by Lynley Dodd! Hairy Maclary's Bone; Hairy Maclary Scattercat; Hairy Maclary's Cat erwaul Caper; Hairy Maclary's Rumpus at the Vet; Slinky Malinki; Hairy Maclary's Showbusiness; Slinky Malinki, Open the Door; Sniff-Snuff-Snap!; Schnitzel Von Krumm Forget-Me-Not; Slinky Malinki Catflaps; Slinky Malinki's Christmas Crackers; Hairy Maclary's Hat Tricks; Scarface Claw; Schnitzel Von Krumm, Dog's Never Climb Tress; Hairy Maclary, Sit; Hairy Maclary and Zachary Quack; Magnet Fun with Hairy Maclary; Hairy Maclary, Shoo; Hairy Maclary and Friends Little Library; Slinky Malinki, Open the Door; Slinky Malinki Early Bird; Where is Hairy Maclary?; Sticker Fun with Hairy Maclary; My Cat Likes to Hide in Boxes. ...Show more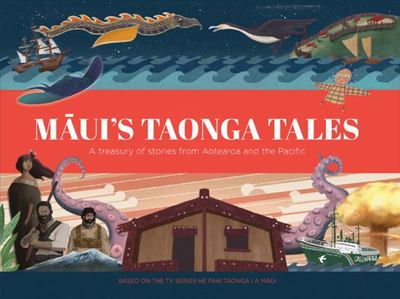 Maui's Taonga Tales
by David Brechin-Smith; Stephanie Tibble
$30.00
NZD
Category: NZ fiction | Series: Maui's Taonga Tales
Aimed at children aged seven to eleven, this book's lively stories tell the tales of some of the taonga held at Aotearoa New Zealand's famous national museum, Te Papa, through appealing text and fantastic illustrations.  The book's pūkōrero, or story teller, is Māui, the great Pacific hero and trickster . The stories are from both long ago and recent times and have been chosen in consultation with Te Papa's mātauranga Māori curators and the relevant iwi. They range from how Ruhia's kaitaka, or cloak, saved the life of a young boy and why the band Herbs wrote a song about nuclear testing in the Pacific to Huria Matenga and the Shipwreck, Rata and the Children of Tane, Willie Apiata and the Tough Decision, Hinemoa and Tutanekai, Te Paea and the Ghost Waka, Kahe's Epic Swim, Heni and the Battle of Gate Pa, Kupe and the Giant Wheke, and Tane and the Kete of Knowledge. Each story is told via illustrations created by young Māori artists; some have illustrated stories from their own iwi. The book is linked to the TV series He Paki Taonga i a Māui, funded by Te Mangai Paho. Also avaiable in Te Reo Maori as He Paki Taonga i a Māui. ...Show more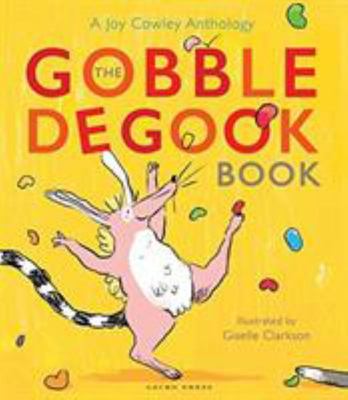 $40.00
NZD
Category: NZ fiction
Joy Cowley's favourite stories, poems and nonsense rhymes collected in a hardback gift volume for the family to treasure. It selects the best of Cowley's poems and stories to read aloud, including much-loved classics such as Greedy Cat and Nicketty-Nacketty Noo Noo Noo. Fully re-illustrated with humour and energy by newcomer Giselle Clarkson, these short stories, picture books and funny poems will bring joy to a new generation. ...Show more
$16.99
NZD
Category: NZ fiction | Series: Tui Street
Once upon a time some fairy tales came to Tui Street and visited the people who lived there. There were some problems in the street: Jack's mother had secrets, the creek had dried up and Terri was being cyber-bullied, to name a few. Following a fairy tale project at school, the children began to notice fairy tale themes to these problems. They had to explore the difference between fact and possibility as they sought answers. Much was at risk: a friend's safety, a morepork's life, the privacy of a Pacific princess. Added to this was the involvement of Aotearoa's landscape, birdlife and folklore. Luckily, facing challenges led to unexpected achievements, such as coaching a wheelchair soccer team, pacifying a wild creature from Maori folklore and re-thinking stereotypes about giants. Everyone lived happily ever after. Well, as much as can be expected when you have homework and dishes to do. Tui Street Tales is a collection of seven stories set in New Zealand. ...Show more
$22.00
NZD
Category: NZ fiction
We've got a boat that flies across the water. Weve got a boat that flies across the sea. You know this boat, it sailed from Aotearoa. It stays afloat because its carried by Kiwis. Join Team Kiwi and sail away on a boat guided by ancient waka, woven with flax sails, powered by a taniwha and bound for vic tory... GO KIWIS GO! Sing along to Aotearoa's unofficial America's Cup song! ...Show more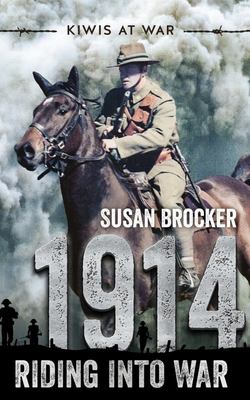 $19.00
NZD
Category: NZ fiction | Series: Kiwis at War | Reading Level: very good
Young Billy Bowman and his mate Jack get caught up in the excitement when war is declared in August 1914 and leave their jobs on the farm to rush off and enlist in the Mounted Rifles - because the war would 'probably be over by Christmas'. We follow their journey from the Awapuni training camp, to more training in the sands of Egypt before they finally get shipped out - without their horses - to fight at Gallipoli. And there they discover that war isn't the big adventure they thought it would be. ...Show more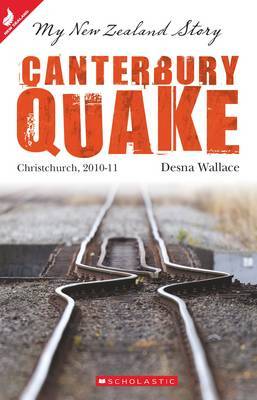 $18.00
NZD
Category: NZ fiction | Series: My New Zealand Story
Anyone would think Maddy's world had crumbled when she didn't get a cell phone for her eleventh birthday. But Maddy soon has far more important things to worry about. In the dark of night, with a terrifying rumble and a deafening roar, the world turns upside down! Suddenly, words like 'liquefaction', 'a ftershocks' and 'state of emergency' bubble to the surface of her vocabulary. As Maddy navigates the bumps and crashes of life after the big quakes, she discovers how strong family ties can be, and finds friendship in the most unlikely of places. ...Show more
$13.00
NZD
Category: NZ fiction | Series: For Kiwi Babies
Beautiful pictures of New Zealand birds are the perfect introduction to numbers and counting for Kiwi babies. This simple and eye-catching board book, with numbers in English and Maori, will delight our littlest learners. It is the ideal companion to Colours for Kiwi Babies.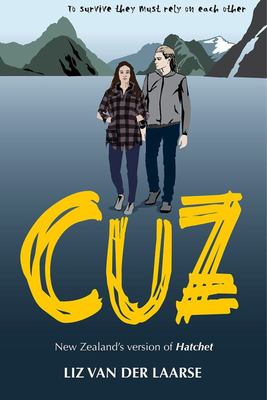 Cuz
by Liz Van Der Laarse
$20.00
NZD
Category: NZ fiction
River is offered a trip on his uncle's trawler. His cousin Huia is annoying, always going on about Maoritanga. When an accident leaves them stranded on the coast of Fiordland, they must work together to save themselves.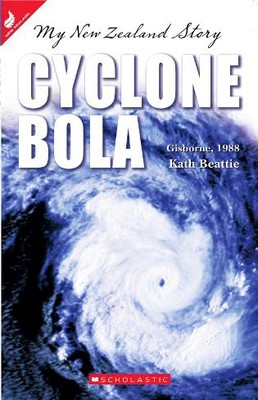 $18.00
NZD
Category: NZ fiction | Series: My New Zealand Story
March 2013 marks the 25th anniversary of Cyclone Bola was one of the costliest cyclones in the history of New Zealand. When Amy's parents decide to go and sail a yacht back to New Zealand from Vanuatu, Amy is sent to stay with her great uncle and aunt on a vineyard near Gisborne. When reports of Bola st art coming through, Amy's initial worry is for her parents … then the cyclone moves closer, and strikes the East Coast of New Zealand with devastating effect. ...Show more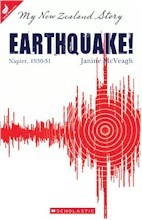 $18.00
NZD
Category: NZ fiction | Series: My New Zealand Story | Reading Level: 10+
A story of daily life in the Depression years, culminating in the Napier earthquake. Napier in the 1930s was a time of going without. The story starts on the 25th of June, 1930 – a sad day in the Bourke household – the funeral of Katie's father. This Catholic family must now survive with earnings from t he older siblings and the washing Katie's mother takes in. When older brother Tom returns home, after a long absence, it is a help – but with him come other troubles. Katie records the events in the old diary her father used to keep. It is her way of speaking to her dad. Then, in February 1931, disaster strikes the small town . . . an earthquake that destroys the school and much of the town centre. This timely reissue was previously published as part of the My Story series as Earthquake! The 9781775430155, Napier, 1930-31. ...Show more