$17.99
NZD
Category: Children and Young Adult
In The Deep End, book 15 of the Diary of a Wimpy Kid series from #1 international bestselling author Jeff Kinney, Greg Heffley and his family hit the road for a cross-country camping trip, ready for the adventure of a lifetime. But things take an unexpected turn, and they find themselves stranded at an RV park that's not exactly a summertime paradise. When the skies open up and the water starts to rise, the Heffleys wonder if they can save their vacation-or if they're already in too deep. And don't miss Rowley Jefferson's Awesome Friendly Adventure, an all-new fantasy from Greg's best friend-the follow-up to the instant #1 bestseller Diary of an Awesome Friendly Kid- Rowley Jefferson's Journal.   ...Show more
$19.00
NZD
Category: Children's fiction
From his seat in the tiny aeroplane, Fred watches as the mysteries of the Amazon jungle pass by below him. He has always dreamed of becoming an explorer, of making history and of reading his name amongst the lists of great discoveries. If only he could land and look about him. As the plane crashes into the canopy, Fred is suddenly left without a choice. He and the three other children may be alive, but the jungle is a vast, untamed place. With no hope of rescue, the chance of getting home feels impossibly small. Except, it seems, someone has been there before them ... ...Show more
$17.00
NZD
Category: Children and Young Adult
The year is 3020. Pip@256X#YY.3-7 is lonely and bored: she goes to virtual school on her G-Glasses, she only has a talking cat and parrot to hang out with, and she can't even leave her LivingSpace due to the extreme heat and floods outside. Until the day that Pip explores a glowing ring in a lab and f inds herself in a warehouse, in 2019. Where she meets boy-inventor Rahul – who is also lonely and bored. Together, Rahul and Pip are no longer lonely. But they have a whole load of new problems, including hiding talking animals from Rahul's parents, and finding a way back to the future. Plus – just maybe – saving the world… Future Friend is a terrifically entertaining time-slip adventure that combines action, laugh-out-loud humour and the importance of friendship, in a story that asks the question – what would happen if your best friend came from the future? ...Show more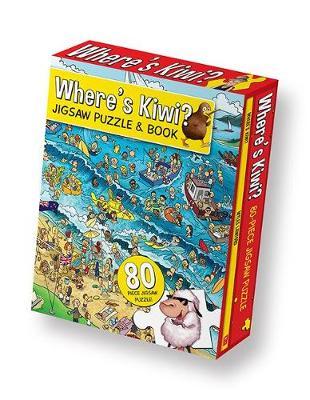 $25.00
NZD
Category: NZ fiction
Can YOU spot Kiwi? Hes got itchy feet! There are sights to see and adventures to be had. There are waves to surf, rivers to raft, and mountains to climb! Join the great Kiwi hunt and piece together your very own great Kiwi holiday puzzle!
$35.00
NZD
Category: Children and Young Adult
What's important is our story, our whole story, including those moments when we feel a little vulnerable . . . Michelle Robinson started life sharing a bedroom with her older brother Craig, in their family's upstairs apartment in her great-aunt's house. Her parents, Fraser and Marian, poured their love and energy into their children. She would go on to become Michelle Obama, the inspirational First Lady of the United States of America.Now adapted for younger readers, with new photographs and a new introduction from Michelle Obama herself, this memoir tells a very personal, and completely inspiring, story of how, through hard work and determination, the girl from the South Side of Chicago built an extraordinary life. A tale of ups and downs, triumphs and failures, this is an incredibly honest account. It'll take you from the early years - first kiss, first school, first love - to the wonders of the White House, and the moment Mrs Obama shook hands with the Queen of England.A book to read, share, and talk about with the adults in your life, this is a call to action and compassion, and hope for change in uncertain times, and in a scary world.You'll be inspired to help others, and understand that no one is perfect. Just like Michelle Obama, you too are finding out exactly who you want to be (and, actually, so are the adults in your life).Above all, it is a book to make you think- who are you, and what do you want to become? ...Show more
$12.00
NZD
Category: Children's activity | Series: Little Sticker Dolly Dressing
A younger version of Sticker Dolly Dressing, this new series is sure to please little girls worldwide. Dress the little dollies with easy to stick stickers on the laminated pages. A fold out "car park" for the stickers will help little hands to prepare the clothes before dressing the dollies.
$23.00
NZD
Category: Children Non-Fiction | Series: Little People, Big Dreams
New in the critically acclaimed Little People, BIG DREAMS series, discover the remarkable life of Jane Austen, the great British novelist. Little Jane was born into a large family with seven brothers and sisters. She grew up reading and writing stories in the English countryside. As an adult, she wrote witty commentaries about landed gentry in a way that no one had ever done before, portraying young women who bravely made their own choices. These novels made Jane one of the most loved British writers of all time. This moving book features stylish and quirky illustrations and extra facts at the back, including a biographical timeline with historical images and a detailed profile of the author's life.Little People, BIG DREAMS is a best-selling series of books and educational games that explore the lives of outstanding people, from designers and artists to scientists and activists. All of them achieved incredible things, yet each began life as a child with a dream. This empowering series offers inspiring messages to children of all ages, in a range of formats. The board books are told in simple sentences, perfect for reading aloud to babies and toddlers. The hardcover versions present expanded stories for beginning readers. Paper dolls, learning cards, matching games, and other fun learning tools provide even more ways to make the lives of these role models accessible to children. Inspire the next generation of outstanding people who will change the world with Little People, BIG DREAMS ...Show more
$19.00
NZD
Category: Children and Young Adult
Go on an adventure with Katherine Rundell -From the winner of the Costa Children's Book Prize'A writer with an utterly distinctive voice and a wild imagination' Philip PullmanFeodora and her mother live in the snowbound woods of Russia, in a house full of food and fireplaces. Ten minutes away, in a ruin ed chapel, lives a pack of wolves. Feodora's mother is a wolf wilder, and Feo is a wolf wilder in training. A wolf wilder is the opposite of an animal tamer- it is a person who teaches tamed animals to fend for themselves, and to fight and to run, and to be wary of humans.When the murderous hostility of the Russian Army threatens her very existence, Feo is left with no option but to go on the run. What follows is a story of revolution and adventure, about standing up for the things you love and fighting back. And, of course, wolves. ...Show more
$17.99
NZD
Category: Children and Young Adult | Series: Awesome Friendly Kid
Scare yourself silly with Rowley Jefferson's Awesome Friendly Spooky Stories by Jeff Kinney, the #1 international bestselling author of Diary of a Wimpy Kid! Grab a flashlight, crawl under the covers, and dive into the twisted, unexpectedly hilarious world of Rowley Jefferson's imagination. You'll meet zombies, vampires, ghosts, and much more in these comically terrifying tales. Rowley's spooky stories might leave you laughing, but beware-you could end up sleeping with the lights on! And don't miss Rowley Jefferson's first two awesome friendly books, the instant #1 bestsellers Diary of an Awesome Friendly Kid- Rowley Jefferson's Journal and Rowley Jefferson's Awesome Friendly Adventure! ...Show more
$40.00
NZD
Category: Children Non-Fiction
A spectacular illustrated picture book exploring New Zealand's unique landscapes and its incredible wildlife by the award-winning author of Aotearoa: The New Zealand Story. Long before waka touched Aotearoa's shores, the land of the long white cloud was home to an array of creatures uniquely adapted to its environments and protected by its isolation. Encounter New Zealand's incredible wildlife in this spectacular visual exploration. Journey through ocean, sky and land to meet a marvellous range of organisms. Discover fascinating facts, and learn how we influence the survival of our living treasures. In this magnificent companion volume to Aotearoa: The New Zealand Story, Gavin Bishop weaves a compelling visual narrative of our land, our people and our wildlife - past, present and future. ...Show more
$22.00
NZD
Category: Children and Young Adult
The Grinny Granny Donkey is the third book from Craig Smith and Katz Cowley, the creative team behind the Scottish Granny internet sensation, The Wonky Donkey! At a time when bringing stories of laughter, hope, kindness and courage to children seems more important than ever, The Grinny Granny Donkey de livers a heartwarming hug and a dose of laugh-out-loud family fun in honour of grannies everywhere. This hee-haw funny story by Craig Smith and beautiful illustrations by Katz Cowley guarantee that The Grinny Granny Donkey will become a new favourite picture book. ...Show more