$50.00
NZD
Category: Children and Young Adult
A mythical monster, a kingdom in peril, an adventure that will test two children's bravery to the limit. Discover a brilliantly original fairy tale about the power of hope and friendship to triumph against all odds, from one of the world's best storytellers. The kingdom of Cornucopia was once the happi est in the world. It had plenty of gold, a king with the finest moustaches you could possibly imagine, and butchers, bakers and cheesemongers whose exquisite foods made a person dance with delight when they ate them. Everything was perfect – except for the misty Marshlands to the north which, according to legend, were home to the monstrous Ickabog. Anyone sensible knew that the Ickabog was just a myth, to scare children into behaving. But the funny thing about myths is that sometimes they take on a life of their own. Could a myth unseat a beloved king? Could a myth bring a once happy country to its knees? Could a myth thrust two children into an adventure they didn't ask for and never expected? If you're feeling brave, step into the pages of this book to find out… A beautiful hardback edition, perfect for sharing and gift-giving. Brought to life with full-colour illustrations by the young winners of The Ickabog competition.   ...Show more
$17.99
NZD
Category: Children and Young Adult
In The Deep End, book 15 of the Diary of a Wimpy Kid series from #1 international bestselling author Jeff Kinney, Greg Heffley and his family hit the road for a cross-country camping trip, ready for the adventure of a lifetime. But things take an unexpected turn, and they find themselves stranded at an RV park that's not exactly a summertime paradise. When the skies open up and the water starts to rise, the Heffleys wonder if they can save their vacation-or if they're already in too deep. And don't miss Rowley Jefferson's Awesome Friendly Adventure, an all-new fantasy from Greg's best friend-the follow-up to the instant #1 bestseller Diary of an Awesome Friendly Kid- Rowley Jefferson's Journal.   ...Show more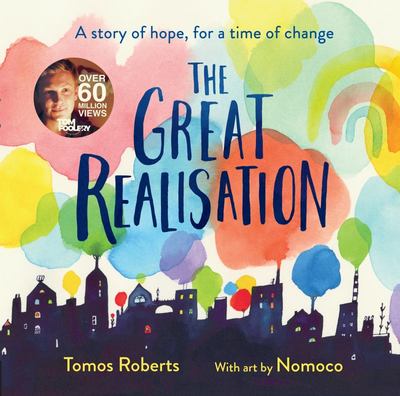 $24.99
NZD
Category: Children and Young Adult
A post-pandemic bedtime tale that has captured the hearts of millions. First performed in response to the Coronavirus pandemic, Tomos Roberts' inspiring poem, with its message of hope and resilience, has been viewed more than 60 million times and translated into over 20 languages worldwide. From simple acts of kindness, to the creativity within us all, The Great Realisation is a celebration of the many things that have brought us together at a time of crisis. It captures, with magical resonance, the thoughts and feelings of millions worldwide as we adapt to a new way of life, cast aside old habits and reflect on what truly matters to us. It is a story for all readers, young or old, who dare to dream of a fairer, kinder, more loving world. ...Show more
$17.00
NZD
Category: Children and Young Adult
The year is 3020. Pip@256X#YY.3-7 is lonely and bored: she goes to virtual school on her G-Glasses, she only has a talking cat and parrot to hang out with, and she can't even leave her LivingSpace due to the extreme heat and floods outside. Until the day that Pip explores a glowing ring in a lab and f inds herself in a warehouse, in 2019. Where she meets boy-inventor Rahul – who is also lonely and bored. Together, Rahul and Pip are no longer lonely. But they have a whole load of new problems, including hiding talking animals from Rahul's parents, and finding a way back to the future. Plus – just maybe – saving the world… Future Friend is a terrifically entertaining time-slip adventure that combines action, laugh-out-loud humour and the importance of friendship, in a story that asks the question – what would happen if your best friend came from the future? ...Show more
$19.99
NZD
Category: Children and Young Adult | Series: Morrigan Crow
Morrigan Crow and her friends have survived their first year as proud scholars of the elite Wundrous Society, helped bring down the nefarious Ghastly Market, and proven themselves loyal to Unit 919. Now Morrigan faces a new, exciting challenge: to master the mysterious Wretched Arts of the Accomplished Wundersmith, and control the power that threatens to consume her. Meanwhile, a strange and frightening illness has taken hold of Nevermoor, turning infected Wunimals into mindless, vicious Unnimals on the hunt. As victims of the Hollowpox multiply, panic spreads. There are whispers - growing louder every day - that this catastrophe can only be the work of the Wundersmith, Ezra Squall. But inside the walls of Wunsoc, everyone knows there is a new Wundersmith - one who's much closer to home. With Nevermoor in a state of fear and the truth about Morrigan threatening to get out, the city she loves becomes the most perilous place in the world. Morrigan must try to find a cure for the Hollowpox, but it will put her - and everyone in Nevermoor - in more danger than she could have imagined. ...Show more
$26.99
NZD
Category: Children and Young Adult
Millions of young readers have loved the World's Worst Children tales and revelled in the World's Worst Teachers with their delightfully dreadful deeds – now prepare for…THE WORLD'S WORST PARENTS! From the phenomenally bestselling David Walliams and illustrated in glorious colour by the artistic genius, Tony Ross. Are you ready to meet the worst parents ever? Sure, some parents are embarrassing – but they're NOTHING on this lot. These ten tales of the world's most spectacularly silly mums and deliriously daft dads will leave you rocking with laughter. Pinch your nose for Peter Pong, the dad with the stinkiest feet in the world… jump out of the way of Harriet Hurry, the fastest mum on two wheels… watch out for Monty Monopolize, the dad who takes all his kids' toys… and, oh no, it's Supermum! Brandishing a toilet brush and a mop, she's out to save the world! With a very special introduction said to be from David's own mum, these ten tales of the most madcap mums and deliciously daft dads will leave you rocking with laughter. ...Show more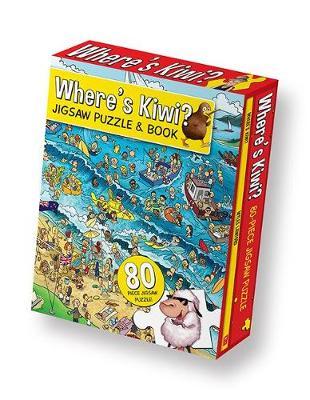 $25.00
NZD
Category: NZ fiction
Can YOU spot Kiwi? Hes got itchy feet! There are sights to see and adventures to be had. There are waves to surf, rivers to raft, and mountains to climb! Join the great Kiwi hunt and piece together your very own great Kiwi holiday puzzle!
$25.00
NZD
Category: Children and Young Adult
1940. Britain is at war with Nazi Germany. Eleven-year-old Eric spends his days at the place that makes him most happy: London Zoo. And there's one animal in particular he loves: Gertrude the gorilla. With bombs falling all over London, Eric must rescue Gertrude. Together with his Uncle Sid, a keeper at the zoo, the three go on the run. But while hiding out at the seaside they uncover a top-secret Nazi plot… Join David Walliams on this action-packed, laugh-out-loud adventure for all the family! ...Show more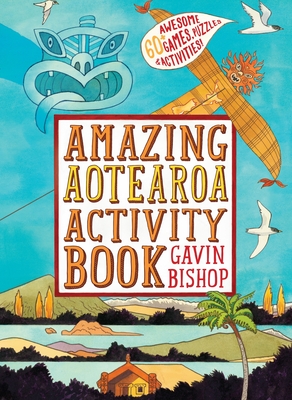 $25.00
NZD
Category: Children's activity
5 -12 Years Old. You'll have lots of creative fun with this book full of puzzles, quizzes and activities that explore Aotearoa New Zealand and its people. Based on Gavin Bishop's bestselling Aotearoa- The New Zealand Story and Wildlife of Aotearoa, this activity book is a place for you to tell your own story in words and pictures.You'll- learn to introduce yourself in Maori- solve puzzles and crack codes- play games- invent a superhero- draw your future home- make maps- curate your heroes in a wall of fame- design a flag- create a menuand much more!Packed with quizzes, mazes, colouring pages and activities designed to stimulate bright minds, this is the ideal activity book for creative children aged 5-12. ...Show more
$12.00
NZD
Category: Children's activity | Series: Little Sticker Dolly Dressing
A younger version of Sticker Dolly Dressing, this new series is sure to please little girls worldwide. Dress the little dollies with easy to stick stickers on the laminated pages. A fold out "car park" for the stickers will help little hands to prepare the clothes before dressing the dollies.
$23.00
NZD
Category: Children Non-Fiction | Series: Little People, Big Dreams
New in the critically acclaimed Little People, BIG DREAMS series, discover the remarkable life of Jane Austen, the great British novelist. Little Jane was born into a large family with seven brothers and sisters. She grew up reading and writing stories in the English countryside. As an adult, she wrote witty commentaries about landed gentry in a way that no one had ever done before, portraying young women who bravely made their own choices. These novels made Jane one of the most loved British writers of all time. This moving book features stylish and quirky illustrations and extra facts at the back, including a biographical timeline with historical images and a detailed profile of the author's life.Little People, BIG DREAMS is a best-selling series of books and educational games that explore the lives of outstanding people, from designers and artists to scientists and activists. All of them achieved incredible things, yet each began life as a child with a dream. This empowering series offers inspiring messages to children of all ages, in a range of formats. The board books are told in simple sentences, perfect for reading aloud to babies and toddlers. The hardcover versions present expanded stories for beginning readers. Paper dolls, learning cards, matching games, and other fun learning tools provide even more ways to make the lives of these role models accessible to children. Inspire the next generation of outstanding people who will change the world with Little People, BIG DREAMS ...Show more
$23.00
NZD
Category: Children Non-Fiction | Series: Little People, Big Dreams
New in the critically acclaimed Little People, BIG DREAMS series, discover the amazing life of Jane Goodall, the world's foremost expert on chimpanzees. When Jane was little, her father gave her a toy chimpanzee named Jubilee. This inspired her lifelong love of animals, and she went to study them in th e wild as soon as she could. Jane lived with chimpanzees in their natural habitat and became famous for her pioneering approach to research. She now educates the public on animal rights. This moving book features stylish illustrations and extra facts at the back, including a biographical timeline with historical photos and a detailed profile of the primatologist's life. Little People, BIG DREAMS is a best-selling series of books and educational games that explore the lives of outstanding people, from designers and artists to scientists and activists. All of them achieved incredible things, yet each began life as a child with a dream. This empowering series offers inspiring messages to children of all ages, in a range of formats. The board books are told in simple sentences, perfect for reading aloud to babies and toddlers. The hardcover versions present expanded stories for beginning readers. Boxed gift sets allow you to collect a selection of the books by theme. Paper dolls, learning cards, matching games, and other fun learning tools provide even more ways to make the lives of these role models accessible to children. Inspire the next generation of outstanding people who will change the world with Little People, BIG DREAMS! ...Show more