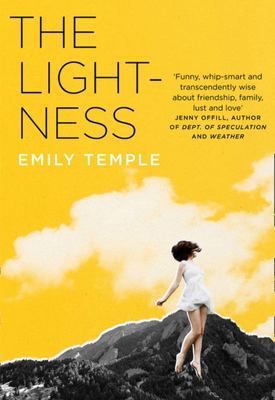 $35.00
NZD
Category: Teen fiction
'With dark, stylish prose and a group of teenage girls up to no good, The Lightness could be the love child of Donna Tartt and Tana French, but its savage, glittering magic is all Emily Temple's own' Chloe Benjamin, author of The Immortalists One year ago, the person Olivia adores most in the world, he r father, left home for a meditation retreat in the mountains and never returned. Yearning to make sense of his shocking departure, Olivia runs away from home and retraces his path to a place known as the Levitation Center. There, she enrolls in their summer program for troubled teens, a 'Buddhist Boot Camp for Bad Girls', and finds herself drawn into the company of a close-knit trio of girls determined that this is the summer they will finally learn to levitate, to defy the weight of their bodies, to experience ultimate lightness.  But as desire and danger intertwine, and Olivia comes ever closer to discovering what a body - and a girl - is capable of, it becomes increasingly clear that this is an advanced and perilous practice, and there's a chance not all of them will survive... A stylish, suspenseful meditation on adolescent desire, female friendship, and the female body that shimmers with rage, wit, and fierce longing - for fans of Emma Cline, Ottessa Moshfegh, and Jenny Offill 'A darkly funny, luminously drawn mystery that hits bullseye after bullseye of language and emotion. The Lightness is a book I didn't know I needed and now can't stop thinking about: swift, surprising, and utterly captivating' Téa Obreht, author of Inland and The Tiger's Wife   'Emily Temple's sentences are extraordinary: musical, bristling with animal intelligence, feline in their tensed sinuosity, their lack of the usual loyalties, their readiness to pounce. This remarkable novel is made up of equal parts desire and dread; it constantly surprised me, eerily outpacing my expectations. The Lightness is a glorious debut' Garth Greenwell, author of What Belongs to You 'Emily Temple's debut The Lightness grants us a bold, smart, hilarious new voice. She tells a page-turning story that's also a detective story - psychologically wise and totally wise-assed, all while being both cynical and spiritual. A classic must read!' Mary Karr, author of Lit ...Show more
Ashes to Ashes
by Jenny Han; Siobhan Vivian
$20.00
NZD
Category: Teen fiction
New Year's Eve ended with a bang and Mary, Kat and Lillia may not be prepared for what is to come. After Rennie's death, Kat and Lillia try to put the pieces together of what happened to her. They both blame themselves. If Lillia hadn't left with Reeve... If Kat had only stayed with Rennie. . . Things could have been different. Now they will never be the same. Only Mary knows the truth about that night. About what she is. She also knows the truth about Lillia and Reeve falling in love, about Reeve being happy when all he deserves is misery, just like the misery he caused her. Now their childish attempts at revenge are a thing of the past and Mary is out for blood. Will she leave anything in her wake or will all that remain be ashes? ...Show more
$21.00
NZD
Category: Teen fiction | Series: The Maze Runner | Reading Level: Teen - Grade 7-9, Age 12-14
The Trials are over. But something has happened that no one at WICKED has foreseen: Thomas has remembered more than they think. And the truth is more dangerous than anyone could have imagined.
$28.00
NZD
Category: Teen fiction | Series: Amulet
Emily, Trellis, and Vigo visit Algos Island, where they can access and enter lost memories. They're hoping to uncover the events of Trellis's mysterious childhood, knowledge they can use against the Elf King. What they discover is a dark secret that changes everything.
Items per page:
1 - 4 of 4